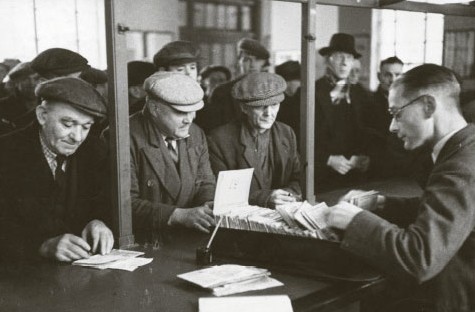 Egham is not normally a town you would associate with firsts. However, in February 1885 it was home to the first successful labour registry in England, established by Nathaniel Louis Cohen.
P.J. Crampling describes Cohen as an "extreme Tory in politics". Cohen was active within the Egham Conservative Working Man's Club, President of the Egham Literary Institute and also very interested in its offshoot, the Egham Mutual Improvement Society. It was while travelling in Germany in 1884 though, where he witnessed the system of social insurance just introduced by Bismarck, that Cohen first became interested in the labour exchange idea and its potential application back in Egham.
Egham's population in the later half of the nineteenth century had grown rapidly, reaching approximately 7,000 in 1885. This rise was in part due to the great building projects underway in the area: Holloway Sanatorium, Holloway College (it would not become Royal Holloway until the following year) and the Staines waterworks. However, by 1885 nearly all of these projects were nearing completion and unemployment was increasing. The situation had become so serious that in 1884 the Church Wardens and Overseers of Egham had set up the Egham Bread Relief Fund.
As Crampling explains:
[Cohen] had been impressed in the course of riding-tours about England by the numerous groups of respectable looking men, tramping in search of work, some long distances. These labourers appeared to rely entirely on wayside gossip and talk at public houses for information as to available work. Cohen was appalled by the waste of time and energy. He noted the case of an Egham labourer, who had walked forty miles in a vain search for work, and then found all the time that employment had been available close to his home. It was this incident which prompted him to start, in conjunction with three other local gentlemen, the registry for unemployed at Egham.
The registry, open from 9am to 7pm daily, was an immediate success. Between 1 February and 30 September 1885 223 men registered for work and employment was obtained for 181. Between 1 October and 30 September 1886 374 registered and 325 employed. That same year The Times, well informed of the scheme by numerous letters from Cohen himself and observing the unrest caused by unemployment in the West End, suggested "as a palliative for the prevailing depression, though not as a remedy … such excellent devices as the Egham registry … might well be copied in every town in the country." The Egham model was soon being replicated and adapted across the country, including in Paddington a registry for both unemployed men and women.
While Cohen's motivations appear to have been driven largely by a desire for greater efficiency in the labour market, other Tories saw a political benefit to the scheme. Sir Frederick Milner wrote in The Times of how such schemes were an answer to the Socialists who were "taking advantage of the terrible distress to cram their pernicious doctrines down the throats of our people."
However, it was not until 1909 that Winston Churchill as President of the Board of Trade introduced a bill "to provide for the establishment of Labour Exchanges and for all other purposes incidental thereto". Meanwhile the Egham Registry had closed in 1894 as employment opportunities dried up locally and it became apparent that the necessary scope and scale to overcome this was beyond the means of a small philanthropic organisation. Nevertheless in their leader on Churchill's bill The Times paid tribute to Cohen and the pioneering example he had set in Egham.