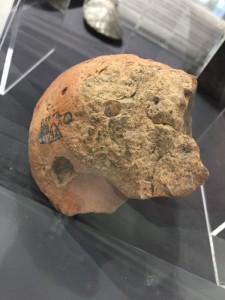 Gavin Bedford returns to exploring the archives in his latest article about a rare items from Egham's Saxon past.
"The Anglo-Saxons definitely left their mark on the local area. Indeed, place names like Egham and Englefield Green are both Saxon in origin. It should be noted though that, despite giving the town its name, there are very few artefacts dating back to the Saxons' time in Egham. Egham Museum is lucky enough to actually offer a home to one of these elusive artefacts, as seen in this photograph. While not appearing to look like much on first glance, this object is actually the remains of a Saxon loom weight. In its complete form, the weight would resemble a doughnut made of clay and is one of the few artefacts that remain of 'Saxon Egham'. This loom weight is made of baked clay and was used by the Saxons for weaving. It would have been tied to various threads to stretch them across the loom towards the ground. Doing this would have created the necessary tension needed for a person to be able to weave the fabric. But who were the Anglo-Saxons, and why is there little evidence remaining of their time in Egham?
After the collapse of Roman power in Britain in the beginning of the fifth century, tribes from Denmark, Germany, and the Netherlands arrived from across the North Sea. They were collectively known as the Saxons. After a number of conflicts with the Britons, the Saxons eventually conquered the majority of Britain, with the five biggest Saxon kingdoms ruling most the land. Egham was situated in the kingdom of Wessex, although the boundaries of these kingdoms did change over the course of the Saxon period. The Saxon period itself spanned around six hundred years and is commonly described as ending in 1066 with the Battle of Hastings and the victory of William of Normandy.
If the Saxons lived in Egham for so long, why is there such little material evidence of them being here? The main reason for this is that the Saxons built a lot of their structures out of wood. Indeed, almost all of their houses and communal buildings were constructed using wood with thatched roofs made of straw, with only a few of their churches being made of stone. In this period Britain was covered in woods and trees, so there would have been plenty of material to be used for construction. This plentiful supply of wood was needed as it would have taken up to eighteen trees to get enough material to build a single house. However, this Saxon reliance on wood is bad news for those looking for artefacts and remains of such buildings, due to the fact that wood rots and decays. This is in direct comparison to the Romans or the Normans, who built with stone, meaning that a lot more remains of these cultures for archaeologists and historians to uncover and analyse. When attempting to reconstruct the history of the Saxons in Britain we must then turn to other sources and artefacts, such as this loom weight. With this in mind, one can see why this artefact is so historically valuable."
Gavin Bedford is studying History at Royal Holloway, University of London.