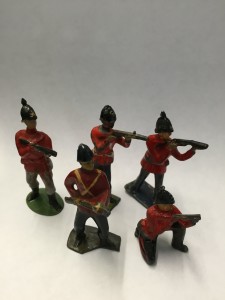 In this article Gavin Bedford explores the history behind Victorian Toy Soldiers, one of the sets of items available for loan as part of our Victorian loans box for local schools. 
This collection of metal toy soldiers is most likely from the late Victorian period. Their level of detailing and military uniforms could be evidence of this, although they may well originate from the pre-war Edwardian era instead. During the Victorian period metal toy soldiers were predominantly the play things of boys from wealthier families. The figures could be relatively expensive as they were almost all imported from France or Germany and made of solid metal. Other toys children from wealthier families played with included train sets, china faced dolls, tea sets, and rocking horses. Prior to 1890 it was very rare for children from poorer families to play with metal toy soldiers and instead often had homemade toys made from household objects and other easily accessible materials.
Metal toys soldiers only became popular with the masses after a toy maker from London, called William Britain, in 1893 found a way to make hollow metal figures that were cheaper to produce then their solid counterparts. As a result, during the late Victorian period and the following Edwardian era there was what can only be described as a toy soldier craze, with some estimates claiming that around eleven million figures were being produced in Britain a year by 1914. Furthermore, most of the toy soldiers were being made to be sold to British households. While boys were often seen as the target market for toy soldiers, there was some produced that were targeted at girls, though they were not as popular. These figures were also popular amongst some elites and intellectuals of the time, with the likes of H.G. Wells and Winston Churchill having vast collections of their own toy soldiers.
However, even before their mass popularity, toy soldiers had been accused of fostering a sense of militarism amongst young boys. With the mass market for toy soldiers that emerged in the 1890s, one can only assume this militarism became more widespread. Toy soldiers helped create a dangerously romantic image of war and combat for many young boys and men in this period. Toy soldiers were one aspect of Victorian and Edwardian popular culture that led to a strong tone of imperialism and militarism in society at this time. Indeed, while there obviously were other factors involved, some historians have claimed that the widespread appeal of toy soldiers was in part responsible for the large percentage of men that volunteered for military service at the outbreak of the First World War. The children who played with these toy soldiers most likely made up a substantial portion of the 2.5 million young men who had signed up for the army before conscription was introduced in 1916.
Gavin Bedford is studying History at Royal Holloway, University of London.