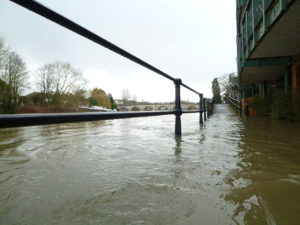 Were you affected by the floods in 2014?  If so, we would like to hear from you!
In partnership with Royal Holloway University of London's Community Action, we will be developing a book documenting the recent 2014 flooding that affected our community.  The project is being led by a team of dedicated students with support from Community Action and Egham Museum.
The story will be captured and developed into a 'Floods Anthology' book that brings together stories, newspaper articles, interviews, and historical research.  These floods were some of the worst on record, with the Thames overflowing in many areas around North Surrey, affecting over 2,000 homes in areas such as Spelthorne and Runnymede.  We will be focusing our research efforts on Egham and Egham Hythe for the purposes of the book, but are still interested in all local areas, and even earlier floods.
We are looking for people to share their experiences of the flood through written memoirs, interviews, photographs or press cuttings.  Many of these will be featured in the book, and all the research will be deposited at Egham Museum in our archive for future use and reference.
JOIN US
If you would like to share your experience with us, we are holding our first memory-sharing event on:
Saturday 25th February, 2-4pm
Egham Museum, The Literary Institute, High Street, Egham
Refreshments will be provided
For more information, or, if you would like to contribute but cannot make the event, please contact Cemre on cemre.camuz.2014@live.rhul.ac.uk or Sarah on curator@eghammuseum.org.