PODCAST: 'The History of St Valentine's Day' by Royal Holloway's History Society, February 2017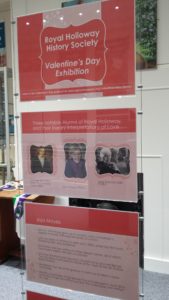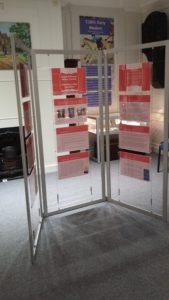 With Valentine's Day just around the corner, members of Royal Holloway University of London's History Society have guest curated a temporary pop-up exhibition at the museum, along with a podcast (listen to the podcast above and read the script here).
The exhibition and podcast looks at Valentinus, British traditions of Valentine's Day as well as the work of three notable Royal Holloway alumni and their literary interpretations of love.  These are George Eliot (aka Mary Anne Evans), Jojo Moyes and Jane Gardam OBE.
The exhibition will run from Thursday 9th February until Thursday 23rd February, so why not pop along and take a look?
With thanks to the following people who researched and curated this exhibition:
Emily Briffett
Megan Chambers
Matthew Clark
Rosie Dann
Abigail Evans
Collette Firestone
Victoria Gleed
Thomas Gibbens
Jodie Leigh Goffin
Amie Roberts
Elena Rossi
Daniel Wigmore
Find out more about the History Society at
Facebook: Royal Holloway History Society
Email: historysociety@su.rhul.ac.uk
Twitter: HistSocRHUL
Instagram: historysocietyrhul
Music used in podcast: "SOUVENIRS DU CARROUSEL" from ADD122 – French Cinema