Our temporary exhibition, 'The Plague Comes to Egham' is due to end on Thursday 11th May 2017, so there's still time to 'catch it' before it leaves!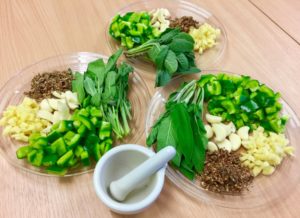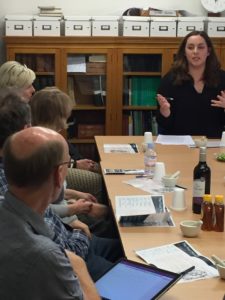 We've had lots of educational fun while the plague's been in town.  On Wednesday 5th April, we held an evening workshop on the medicinal benefits of herbs followed by a plague myth-busting talk. Both were led by PhD Candidate at Royal Holloway University of London, Lara Thorpe.
Lara showed us how to make three plague remedies (minus the poisonous ingredients that would have been in the original recipes!): a preventative one which was simply milk and crushed garlic; a curative one which consisted of sage, green pepper, ginger and nutmeg, all ground together and mixed into red wine; and one for external use on buboes, made from egg yolk, flour and honey. We tasted the first two and surprisingly, they were not too bad, however we decided not to apply the last remedy, although imagine it would have made a good face pack.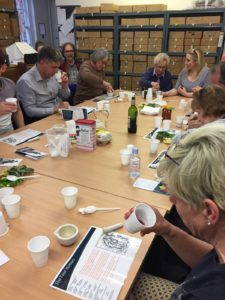 Lara's talk challenged themes that have now seeped into our general knowledge and consensus about what we know of the plague.  These included the idea that dead bodies were dumped into plague pits; that plague doctors wore the infamous mask; and that the great plague of 1665 was caused by the fleas travelling on the back of rats and it was the fire the following year that wiped it out. Lara argues that there is evidence to suggest that burials of loved family members were still carried out respectfully during times of the plague. As well as this, Lara cannot find evidence to suggest that plague doctors in England actually wore the mask and outfit that has now become synonymous with plague, although it was certainly used on the continent. Lara also proposes that there were a number of causes for the great plague and that bubonic plague was just one. Lara has written about this last myth in a recent article for History Today.
It was a very enjoyable evening with participants expressing that the hands-on process of finding out about history was a positive experience.
On Friday 7th April, we held a drop in day for visitors to make their own plague doctor masks.  Even though evidence suggests that these types of masks were not used in England, they are still quite striking. As such, we felt it would be a good way to engage with our younger visitors and talk about the plague. We were very proud of all the masks created, some of which now hang in the museum as part of the display.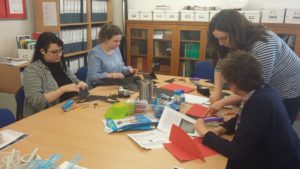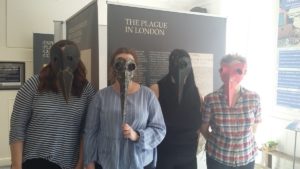 We're open Tuesdays and Thursdays from 10am to 4.30pm and Saturdays 10.30am to 12.30pm.