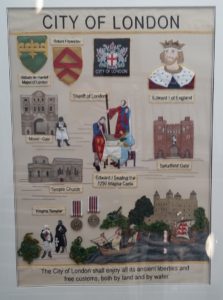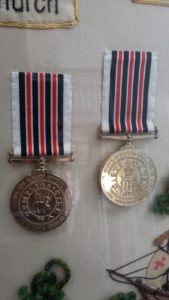 Last week the museum welcomed The Revd Dr Graham St.John-Willey, The Grand Chaplain-General of The Grand Priory of Wales.  Dr St.John-Willey supported the development of the fantastic Magna Carta Embroideries created by Rhoda Nevins to commemorate the 800th anniversary of the Magna Carta, in particular, the City of London panel.
The City of London panel is currently on display at the museum and depicts various iconic scenes and references including the Knights Templar and the Temple Church.  It also includes two identical medals (showing both sides) which were gifted by Dr Graham St.John-Willey for use on the panel.
This is the 'Aymeric Memorial Medal'.  Aymeric de Saint Maur was the Master of the Knights Templar and one of the most powerful men in Britain.  He worked with Archbishop Stephen Langton to produce the original draft of the Magna Carta, and was a witness in Runnymede when it was sealed in 1215.
Dr Graham St.John-Willey is the Knights Templar Herald who designed the medal; his 'signature' (an arrow-shaped letter 'G') can be seen against the hoof of the lamb's rear right leg.  It is based on one of the medieval Templar seals in the British Museum which displays the Agnus Dei on the front and the Church of the Holy Sepulchre on the reverse.
You can find out more about the medal and its use in the 2015 Magna Carta commemorations on the Knights Templar website.