On the occasion of commemorating for this year's Remembrance Day, we would like to share an extraordinary and fascinating story that happened to a family who lived in Egham at the end of the 19th century and during World War I; this is the extraordinary story of the 8 Broome brothers.
John Broome (born in 1895 at Hampton Hill), owner and manager of a butcher's shop at 83 Egham High Street, that had the family name, and his wife Eliza (born in 1868 in Kent) had 8 children, all boys, born in a period of 10 years, between 1891 and 1901. As many other parents of that time, John and Eliza, in 1914 when the First World War broke out in Europe, saw all their 8 children leaving for the front. In an historic period when many parents knew that they would probably never seen their sons again after the war, what is surprising is that 4 years later, in 1918, the Broome family were reunited again, as the 8 brothers survived the war and went all back home safe and sound.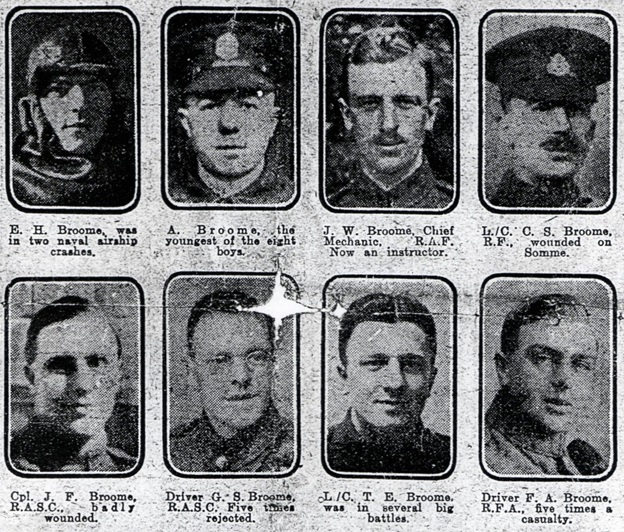 John and Eliza Broome probably couldn't believe it, when at the end of the war, all of their sons came back alive to Egham, where the family ran a butcher shop. The news seemed so sensational that an article appeared in a national newspaper, The Sunday Pictorial (now Sunday Mirror), which reported on the 16th February 1919 the story of the 8 brothers, some of whom had participated in many of the hardest battles.
John (R.A.F.) served in France as a mechanic and received a 1915 Star medal; George (R.A.S.C.) joined the service in 1915 as a driver and received a 15 Star medal; Charlie (Royal Fusiliers), wounded at the Somme battle in February 1916 and later served at the Italian front, received a Victory medal; Thomas (East Surreys) was badly wounded in Beaumetz, received a Victory medal; Fedrerick (R.F.A.) fought in France and was reported wounded and gassed 5 times in the official casualty list, received a Victory medal and a 14 Star medal; James (R.A.S.C.) joined the army in 1914 and served on the Western front until March 1918 where he was wounded while in France, received a Victory medal and a 16 Star medal; Edward (R.N.A.S.) joined the army when he was just 18 and survived 2 aeroplane crashes; and finally Albert (10th London Regiment), the younger brother, joined the army when he was still under military age.
At the Egham Museum, as part of our records, we have a letter from Pamela, daughter of Frederick Broome, who lived herself in Egham for almost 30 years and wrote to us in 1998 to tell us a bit about her family. At that time her father and all the uncles had sadly passed away; she shared with us the location of where they were buried, and the names of somescousins and aunt. Thanks to that letter we found out that her cousin Joyce (daughter of James Broome) was the one who donated her father's artefacts and medal to the Egham Museum.
It was this small wartime display in Egham Museum, showcasing James Broome's war papers and medals, including an ID tag, which caught regular museum visitor, Dave Grimmett's attention.  It was Dave's interest and enthusiasm that gave us the idea to focus on the Broome brothers in this Rembembrance Day article.
As Dave himself tells us, his passion that started him on the medal research, which he has been doing for over 35 years, comes from his grandad, who joined the army in the 2nd East Surreys in 1908, and who fought the First World War until he was wounded in 1917 in Salonica. Before dying in 1960, he left Dave his 3 medals: the 1914-15 Star, British War Medal and Victory medal. Dave became so passionate about medal research that decided to join the O.M.R.S., Orders Medal Research Society, in the 1970s and has been a member since then. As a native of Staines and a volunteer at Staines Museum, one of his research interest was about the Staines War Memorial that reports 198 men killed. On one visit to Egham Museum and upon talking to our Curator, Dave offered to visit the P.R.O., Public Records Office and Kew archives on our behalf to gather service and medal records for the Broome brothers.  Thank you Dave for your ongoing support to Egham Museum.