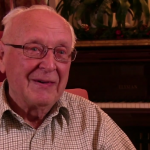 Our Memories of War project, supported by the Heritage Lottery Fund, saw teams of students from Royal Holloway interviewing local residents with memories of the Second World War and more recent conflicts, dramatising Boer and First World War letters and then editing the resulting footage to create thematic micro-documentaries for local schools. The interviews and documentaries were showcased various events including a special screening at Vue Cinema in Staines as well as forming core of Egham Museum's November 2014 to May 2015 'Egham at War' exhibition. The project, run in partnership with Royal Holloway's Community Action, also involved student volunteers receiving training and mentorship in conducting oral history interviews, film-making and editing, publicity, curating an exhibition and planning and managing events.
Professor Sarah Ansari, Royal Holloway, wrote:
"This is an extremely innovative and very timely project that will allow Royal Holloway students as well as other local young people to engage with their community's histories and, in the process, to enrich their own lives. … The project will also develop valuable practical skills and help build personal confidence, both of which are valuable for whatever future careers await them. At Royal Holloway we have a strong commitment to applying History in a public context rather than simply disseminating it, and so we welcome this project precisely because its ambitions encapsulate our own about what can achieved by community-led projects and academic departments in active constructive partnerships."
Stuart McLeod, the Head of the Heritage Lottery Fund for the South East, agreed:
"We are delighted to support such an innovative project that will spark a real interest from young people in exploring our wartime heritage. They will not only become more knowledgeable about war in modern times and the important role local people played in these conflicts but will also learn new skills which will help equip them for the future."
As the pilot project, funded by Heathrow Community Fund, part of BAA Communities Trust, demonstrated though, it is not just skills and experience that volunteers gain. As project volunteer Bill Thisdell writes:
"I came onto the project simply hoping to practise and develop my skills in film making, but during my time working with the team I have gained so much more. Listening to the rich, vibrant stories of our contributors has been a privilege and confirmed to me that it is worthwhile to document our history from first-hand accounts while they are still available. To lose these personal histories would be to forsake ourselves."
The project is also proving to be a moving and valuable experience for interviewees. At the time of the pilot project the then Social Events Coordinator at Merlewood Residential Care Home, Daniel O'Reilly, wrote:
"We are delighted with our Residents recent involvement with the 'Memories of war' pilot project which has proved a highly valuable experience on many levels. The project has provided a fantastic opportunity for reminiscence therapy offering a platform for our Residents to recollect valuable memories. The interview format has also helped promote communication and has encouraged self expression. … We thank the volunteers of Egham Museum for providing our elderly Residents with a platform for restoring their sense of significance and reminding them of their personal value."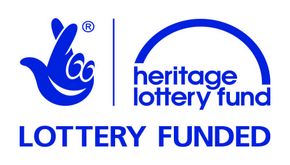 As a teaching museum, one that specialises in providing placements and opportunities for young people to develop skills and gain experience, this is precisely the type of student-led project we aim to enable. It not only engages with and values the life stories of older and sometimes more marginalised members of our community and produces educational resources for local schools but for the team of students taking part in the project it provides excellent experience and a clear sense of achievement. Furthermore, like our Magna Carta in Egham project, this typifies the new approach we are taking at Egham Museum, with its focus on community engagement and stress that a museum is more than the sum of the contents of its display cases. Museums can, and should, be creative and experimental in how they bring history alive.