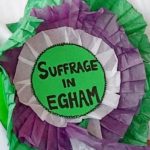 Egham Museum, in partnership with Royal Holloway University of London, and Egham Town Team, are to launch an exciting new summer Arts and Heritage Festival in 2018 with the inaugural theme of Women's Suffrage, marking 100 years of some women having the vote.
The festival will incorporate and scale up both existing artistic activities and develop a new community and schools programme, using the arts as a means of interpreting the past. Our aim is to join up the currently disparate and uncoordinated strands of artistic activity in Egham to create a new and distinctive arts offer for the community and visitors; to forge a new and resilient cultural education partnership between the university, museum and Town Team; and to promote Egham as a vibrant cultural destination in its own right.
---
VISIT OUT SUFFRAGE IN EGHAM WEBSITE HERE
---
How to get involved
There are lots of opportunities for you to participate in the Suffrage in Egham Project. You could volunteer to carry out research; you could participate in one of our workshops and create content for an exhibition; you could attend a performance; or circulate information about the project to your friends and family.
Email Amy Stone to find out more: suffrageproject@eghammuseum.org or sign up to our Suffrage in Egham mailing list to find out how you can get involved:


Find out more about the project here:
Egham-by-Runnymede Arts and History Festival
The Festival will draw together and scale up existing artistic and heritage activity and add new events and a schools and community outreach programme. The aim is to join up the currently disparate and non-coordinated strands of cultural activity in Egham to create a new and distinctive offer for the community and visitors alike. In so doing we aim to make Egham a vibrant cultural destination in its own right and attract visitors to Runnymede and neighbouring towns who might otherwise not visit the town.
'Visit Egham' destination website
Over the next couple of months we will be developing plans for the Festival and working with Egham Town Team to create a new 'Visit Egham' website. This will not only host the Festival schedule, but be a place for people to find out what is happening in Egham and the surrounding areas, throughout the year.
Art Commissions
To launch and underpin the Festival, three Royal Holloway based artistic commissions will be made in 2017. These include an original music composition produced by Samantha Fernando, Lecturer in Composition at Royal Holloway, inspired by the women's suffrage campaign; an art installation celebrating the life of Emily Wilding Davison to be exhibited in the new Emily Wilding Davison Library at Royal Holloway; and a programme of drama and music on campus and in the community led by Royal Holloway's Music, Drama and Performing Arts and English Departments.
History Through The Arts Community Programme
Each of the artistic commissions will be used to inspire a complementary and innovative community and schools engagement programme led by the museum, creating community artworks, performances and workshops. The programme aims to promote the arts as an accessible and enjoyable way to explore the past.
---
Cultural Engagement Officer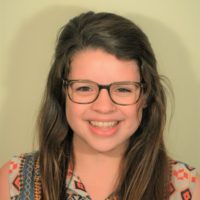 Amy Stone is the project's Cultural Engagement Officer. Having recently finished her French and History degree at Royal Holloway, Amy is excited to continue her involvement with Egham Museum, which she started as a volunteer as part of the Magna Carta in Egham Project in 2015.
She has volunteered in a number of other museums such as the Charles Dickens Museum in London as well as Brighton Toy and Model Museum, and so knows the valuable experiences volunteers can have within a museum and the work they can do for the organisations which they are a part of. After spending last summer working as a Team Leader for the National Citizen Service Summer Programme, she is looking forward to bringing the community spirit fostered by this scheme into the town and creating a sense of pride in the area and a community with Egham Museum at its centre.